Electronic driving licence or E driving licence is nothing but soft copy of driving licence . E driving licence can be downloaded from Parivahan website. 
What is a driving licence?
A driving licence is necessary to drive your two-wheeler and four-wheeler in India. In order to receive a driving licence in your name, you need to pass the driving licence test successfully. Driving licence test consists of two parts; a practical assessment and a theoretical assessment.
One more reason to have a driving licence is that you would be fined ₹5,000 for each time you're driving without a licence. The fine for driving without an insurance policy is ₹2,000. Let's  see what is electronic driving license
How to download a driving license soft copy
Slot Booking for Driving Licence
Documents Required for Driving License Test
E driving licence
India is filled with billions of people and millions of drivers and vehicles as well. It has faced many challenges about pollution, maintaining road security as well. So, the Government of India has brought electronic driver's licence and other certificate cards.
The e driving licence has a microprocessor that helps in storing the data of the driver and which thereby helps a citizen in protection against identity theft. The microprocessor also has the registration details, insurance and pollution control certificate.
​ Recent updates
The Union Ministry of Road Transport and Highways has brought about new changes with by removing requirement regarding hard copies of driving licence and insurance documents and others
Citizens can now carry their documents digitally in smart phone like Digilocker and Parivahan available on the play store. And traffic authorities shall accept the digital documents or the e driving licence as reliable. But if the documents are not stored in either of the apps, then it will not be seen as original documents.
In Digilocker and Parivahan, you need to sign up or log in by way of OTP- verification with the help of your mobile number.
On the application interface, you can upload and store a picture of your licence or registration certificate for purpose of verification. Among other things, Digilocker can also be used to store other important documents such as Aadhaar and PAN card.
Types of Driving Licence in India
Update mobile number in parivahan
Types of driving licences
Following are the two types of driving licences:
Learner's licence– It is a licence given on a provisional basis for a period of 6 months. Learners licence test must be passed in online or offline mode, to later apply for the permanent licence. There are 15 questions for the test in a Multiple-Choice Question (MCQ) format. You need to correctly answer 9 questions to lead to successful completion, where 30 seconds were given to answer each question. After passing, you can apply for the permanent licence.
Permanent Licence – To receive a permanent driving licence, you need to pass the test. You can make an appointment online or in offline mode to appear for the test. After booking a slot, kindly arrive at the RTO one hour before the test. The test will be conducted by an Inspector from the RTO. It requires the candidate to drive through the RTO's designated driving track.
International Driving Permit (DP)– Indian citizens wanting to drive motor vehicle in foreign countries can use the Indian Driving Licence if still valid, provided it is accompanied by an International Driving Permit (IDP). This IDP is issued by the RTO and has a maximum validity of one year from the date of issue, or up to the expiry date of your driving licence, whichever is earlier. IDP helps you rent a car or bike without much trouble when you travel abroad. Fees for the driving permit is Rs 265, you need not re-take the driving test to apply for the international driving permit.
That's all about types of driving license and E driving licence
Can I drive car with learning license?
Driving licence test appointment
What will happen if I fail the driving licence?
If you fail the DL test, you should re-collect your application and documents. You have the option to re-appear for the test again after 7 days. But you will need to pay the fees again while taking the re-test.
Tips for the driving licence test
Kindly take your valid learner's licence, application forms and other relevant documents along with you.
You do not need an agent to pass the test.
Be confident and trust your skills to pass the test.
Check the mirrors frequently to observe the surroundings for emergency situations
Do not stall the car, take a deep breath and start the car again.
Touching the kerb is not a major fault provided there are no pedestrians nearby.
Use the handbrake while parking the car
Crossing hands over on the wheel
Drive at a medium pace, do not drive slowly to impress the examiner as it gives out the thought that you are not well aware of the speed limit.
Appear one hour before your time slot.
Learn to do a reverse S
Know how to do a forward S
Keep an eye on the mirror to check the vehicles behind
Press the horn button as and when necessary.
Do not drink and drive carelessly
Check out what is e driving licence in the previous section
Examples of Traffic Signs
Traffic signs are important to pass the RTO exam to get e driving licence. So kindly refer to it before attempting the exam.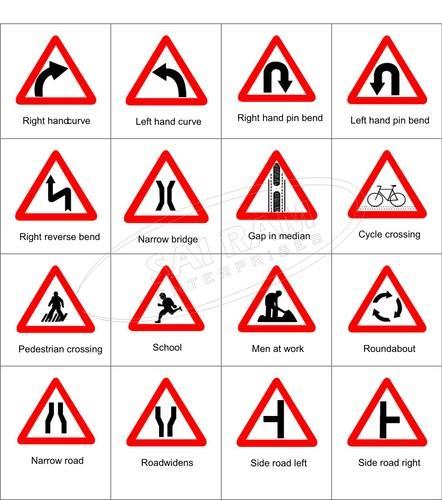 FAQs on Driving Licence Test
Can I drive a car with a learner's licence?
No, you can only drive the car at a training school with a supervisor.
Can I take my licence document in digital form?
Yes, Now digital record of licence or the e driving licence is accepted.
How can I take my driving test online?
You can visit the official website of Ministry of Road Transport and Highways, and apply for your driving test online.
If I don't store my licence in digilocker or Parivahan, what happens?
No, you have to store in either of them, failing which the document will be held as unreliable.
Can I attempt the learner's licence test in online mode?
Yes, you can attempt the test online.
Where to check the status of my driving licence application in online mode?
You can visit the official website to check the status.
What is the fee to obtain a driving licence?
Driving licence fee for single class of vehicle Rs.800/-.
Driving licence fee for double class of vehicle Rs.1100/-.